Timer and Counter for RTD System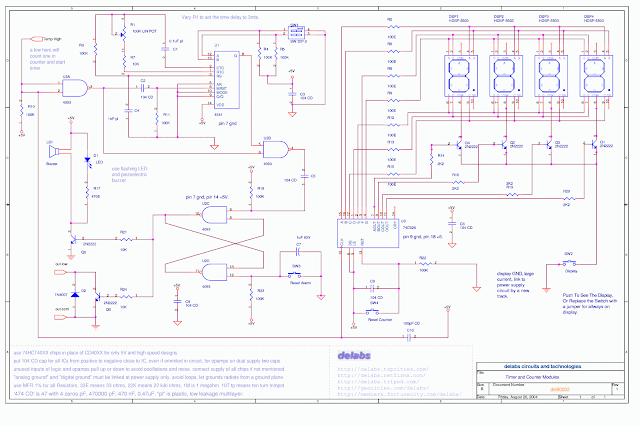 Thank you for your assistance. My answers are by your questions.
Hope this helps. This unit is more for troubleshooting a air flow problem. If the counter shows many 130 Degrees detected or alarm is going off several times a higher priced system for a forced air flow will be needed. Currently no way to detect heat increases going around vent so client doesn't want to purchase forced air flow system. This is a safety device so client can decide on this cheaper system to monitor or a more expensive permanent fix. I will need a PCB setup after I can test the circuit in test environment.
Mail from NV 2004
---
The temperature in a pipe is monitored with four RTD Pt-100 Sensors, The type of probe could be Extruder RTD probes with Bayonet or Compression Fitting, Get it from Omega. The temperature at four points are measured by Temperature Module and compared with one setpoint 0-200 deg C, an alarm output LED out-a goes ON when the measured temperature exceeds the common setpoint.
Timer and Counter Modules – del90002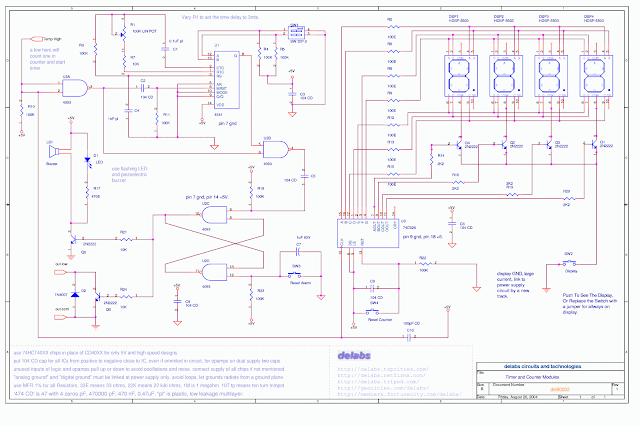 ---
a. do you need individual setpoints for all the four points you measure ? – NO
b. is the temperature deg C or deg F, centigrade or Fahrenheit ? – 130 F
c. do you need a relay output when the LED goes ON to turn off the heater ? NO
d. the time taken to measure 4 points will be 4 seconds is that fast enough ? YES
e. do you need a display of the measured temperature as shown above ? NO
The Analog Timer Module can be set from 0- 30 minutes. If out-a remains high even after set time a out-b alarm goes on with a relay output, the relay contacts can be used to turn off a heater or sound a buzzer.
a. do you want to use a digital timer instead ? – I'm open. Trying to keep costs down
b. do you need a solid state relay output ? – Used like a smoke detector. Alarm to notify client to check air flow. This is in case the air flow stops.
Mail from NV 2004