Analog Level by BCD Thumbwheel Switch
BCD Thumbwheel Switch is used to input-set data in digital form, this can be read by digital circuits, uC and uP systems and PLC-SCADA Interfaces.
Temperature Measurement and Control
In the early transition of analog to digital, before uP became acceptable, Digital systems without uP were made, it even had printers, RAM and displays. The uP systems were coming in, uC had not yet come and uP systems had to still win the confidence of the Prudent Industrial Design Engineer.
The drawbacks of uP based systems used in Computers, in those days were.
Power Consumption was very high, needed SMPS.
Many chips, a CPU had a Retinue of many chips.
Large Board, Double or Multi Sided due to Bus.
Fussy, Hangs on minor Power Glitches or Resets.
Needs Firmware Development and Tight Testing.
Investment in all these areas, Tools and Manpower.
These made Industrial Automation with uP a challenge. CMOS digital and mixed devices and custom application devices were more easy to implement and affordable.
The coming of Low power CMOS uC changed everything and embedded systems became smaller and robust. These were packable in DIN standard and DIN Rail Mounting enclosures.
Coming back to inputting digital data. CMOS uC and Ni-Cd Battery backed up RAM with keyboards made thumb-wheels and other methods less attractive for digital data inputs. Then the Li-Ion Battery, Flash Memory in Combination with Application Specific uC and SOC have made inputting, retaining digital data very easy and affordable.

Thumbwheels are mechanical memory like DIP switches, but have limited number of operations. Flash is Mechanical Noise immune, vibration will not shake the bits out of it. Thumbwheels are Electrical Noise Immune, data will not be corrupted due to Spikes, Glitches, EMI, RFI and Power Supply Failures. Yet thumbwheels cannot input or store an entire page of data.
Digital Potentiometer – del50003
Here is a Circuit that will help you understand or learn practically Digital to Analog Conversion. Practical Learning is very important for Technical Education. So you can easily wire this up and learn. This is an Inverting Op-Amp where Ri is varied using TWS. Vref can be from LM336 (-2.5V).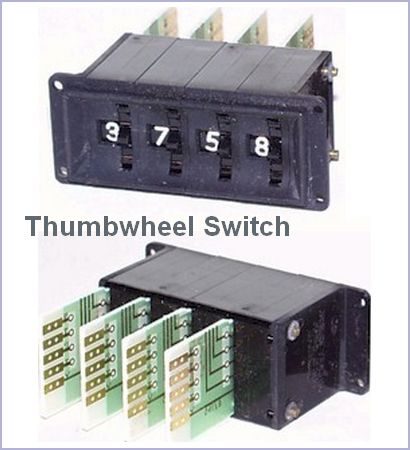 Ignore the DIP Switch part, When a 10 Turn Bourns Pot is used in place of Thumbwheel for Setting the Value, the DIP switch settings are changed.
(Information above is presented for edutainment purpose only, to create an appetite for learning – Cross Verify your learning acquired, from other Sources – delabs)