Running Lights with CD4017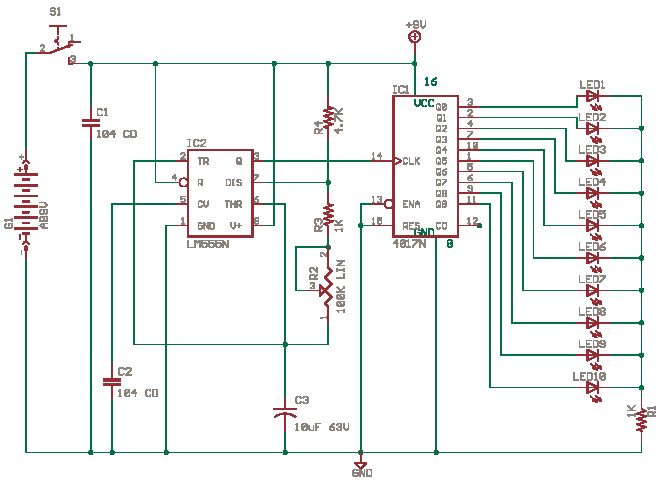 The 555 Astable generates a clock for this circuit, an oscillator giving a square wave output at pin 3 which is counted by 4017 to give a running lights effect.
Digital Timers Counters and Clocks
The decade counter-divider CD4017 has 10 outputs, for every low to high transition at the clock input, rising edge, the counter advances one LED. After going one full circle the the first LED lights again and it goes on. You can vary the value of R2 100K Linear potentiometer to make LEDs run fast or slow.
The frequency of oscillation of astable 555 is given as f = 1.44 / ((R4 + 2 * (R2 + R3)) * C3)

The 10 outputs have 10 green LEDs. The current thru the LED is limited by R1, the current can be calculated like this (9V – 1.6V) / 1K = 7.4mA this is within 20mA which is the danger limit of the CMOS output. You want it to be bright use transistors for every output.
Running Lights with 555 and CD4017
The cap C1 is a filter and C2 is to prevent noise at pin 5 influencing the output as it is a control voltage point.
You can cascade or chain many more counters with the CO or carry out pin 12 of 4017. The pin 15 reset is kept at low for counting, on high it will reset the counter but is not used in this circuit.
pdf links may take time to load in the browser if you just click it, do right click save target to your disk.