Audio Visual User Interface with Ack
This circuit is an User Interface part of a Security Alertness Monitor that i designed decades ago. The circuits are here – Digital Circuits – Part 1 The RAM and RTC part is missing, i will add later. It is without uC or Software. Only CMOS Logic.
Every Hour "+V UR" Goes High for 120 Seconds. The Buzzer Sounds and a Red LED turns on. The Guard has to respond by Pushing the Switch. The Green Light Flashes and the external Flip-Flop logic brings "+V UR" Low, The Buzzer Sound Stops and Red Light Goes off..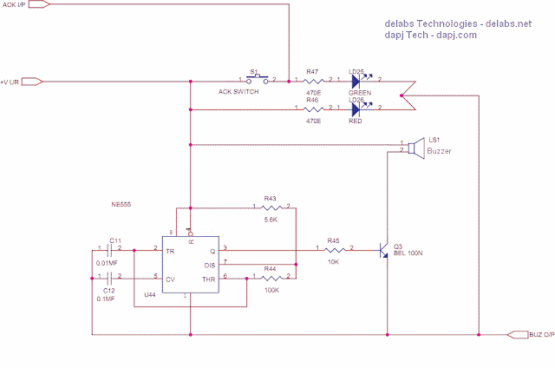 If not pressed the Sound Stops after 120 Seconds and even the Red light goes off then. This records a Non-Alert Hour in the RAM for that Day. The Ram Stores 9 Days alertness status.
You could try porting this project into a 89C2051 for learning product and interface design.