Resistance Measurement Analog LED Meter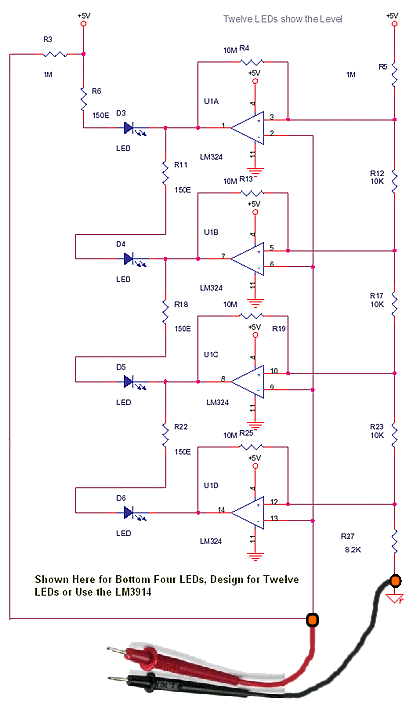 This is a LED Analog Meter, This can be used as a Resistance Meter and Low Impedance Voltmeter for Battery Levels. To measure battery voltage, the R5-R12-R17 etc. part of the Reference Resistor Divider Network can be modified to suit. Shown here is for 4 LEDs, Use Three LM324 for 12 or More LEDs and Cascade as shown.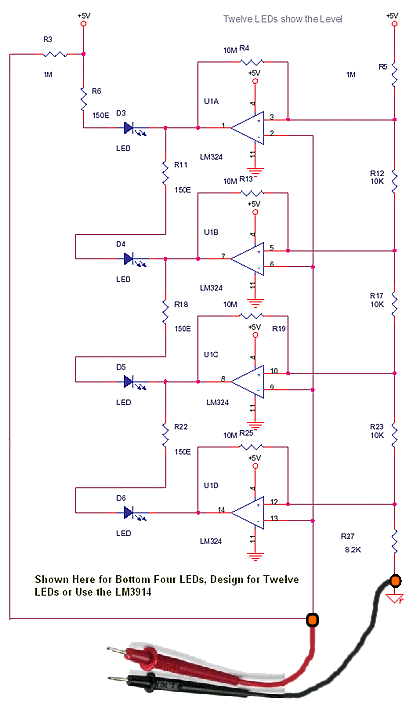 This cannot Measure Voltage levels from High Impedance Sources, will work for Battery Voltage Tests. To make it into a Continuity tester. R27 must be a short and R23 5 Ohms. The Black probe should have a Built in Resistance of 2 Ohms. If you want it to be a dedicated voltmeter, remove R3, The Probe has to be a 10X Attenuator with 10M Ohm and The Resistor Divider Steps in 100mV per Step. The R27, R23 etc. is 20K. A Leakage Tester a Mains Voltage Monitor are other possibilities. Use LM3914 for a easier solution.