Speed control with TDA1085 – PCBWay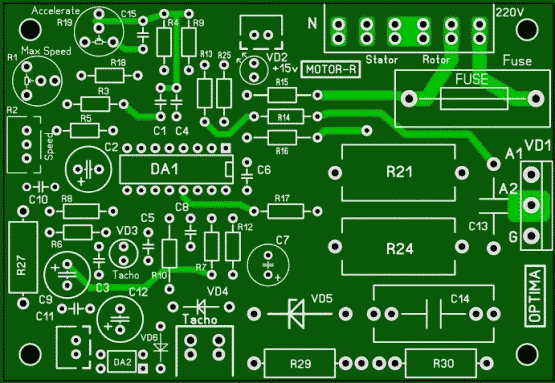 This is a Sponsored Post, The contributions from these Sponsor Firms help enhance and improve the delabs websites and services.
The speed controller of collector motors on the TDA1085 chip still remains popular among users, although it seemed that everyone and sundry had already done it. For 2-3 years I made a lot of versions of such regulators and tried to optimize the circuit and design and continue to do so until now. I currently offer a version of the Optima regulator – the diagram is shown below.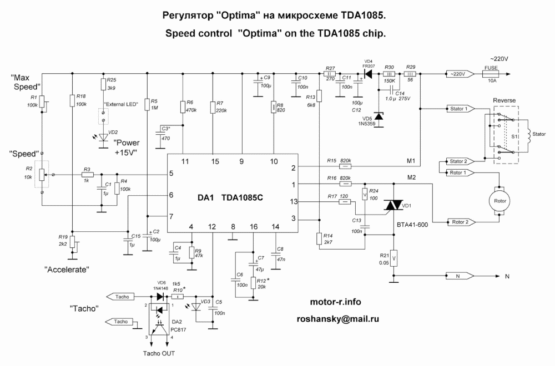 Speed control "Optima" on the TDA1085 chip
2 Layers PCB 68 x 99 mm FR-4, 1.6 mm, 1, HASL with lead, Green Solder Mask, White silkscreen.- Basic controls on TDA1085 chip speed are used to work with the commutator motor of washing machines from 220 volts. All of these engines are equipped with tachosensor. But there are many collector engines of various capacities around the same voltage.
PCBWay has created dedicated channels for sponsorship to encourage these electronics enthusiasts to create their own projects. PCBWay has sponsored more than 1000 projects so far which include robots, rockets, racing cars and so on.
PCBWay is a PCB manufacturer in China. They offer the most cost-effective PCB prototype services. The also manufacture larger quantities and provide product assembly services.
(Above content provided by the sponsor firm. Refined and moderated by delabs)