This is a Sponsored Post, The contributions from these Sponsor Firms help enhance and improve the delabs websites and services.
PCBWay a PCB manufacturer  Supports Non-Profit Projects – Considering a large proportion of electronics enthusiasts are students or beginners, PCBWay has created dedicated channels for sponsorship to encourage these electronics enthusiasts to create their own projects. PCBWay has sponsored more than 1000 projects so far which include robots, rockets, racing cars and so on. PCBWay has also sponsored Makerfaire, SHA2017 and other activities.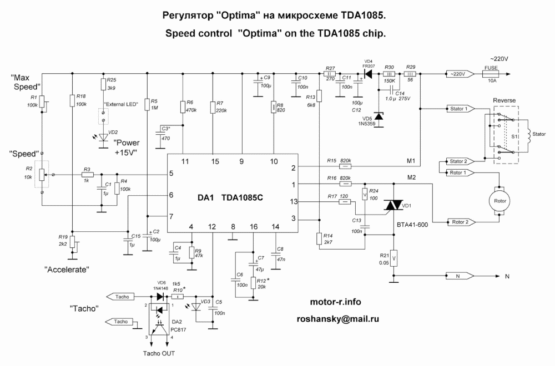 Speed control "Optima" on the TDA1085 chip
2 Layers PCB 68 x 99 mm FR-4, 1.6 mm, 1, HASL with lead, Green Solder Mask, White silkscreen.- Basic controls on TDA1085 chip speed are used to work with the commutator motor of washing machines from 220 volts. All of these engines are equipped with tachosensor. But there are many collector engines of various capacities around the same voltage.
Changes – Added a trimmer R19 "Accelerate" for a small acceleration changes at a speed adjustment; add contacts to the power terminals to be able to connect a separate rotor and stator windings, in this case, simplified organization of reverse, although the possibility remains of old connection – made electrically isolated from the 220 volt output of the tachogenerator for measuring engine speed, if necessary; – as a simple regulator there is an opportunity (worth connector) for connection of the external indication LED power + 15V.
PCBWay –  PCB  and Assembly Services
PCBWay is a PCB manufacturer in China. They offer the most cost-effective PCB prototype services. The also manufacture larger quantities and provide product assembly services.
(Above content provided by the sponsor firm. Refined and moderated by delabs)