Polarized Capacitors and 555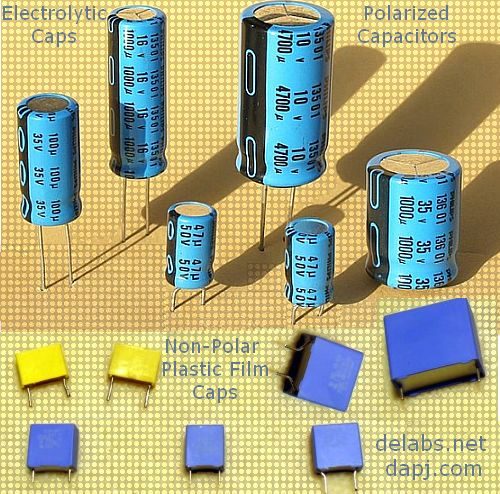 Howdy!
This circuit of yours is EXACTLY what I was looking for. TOTALLY cool! However, I have a few questions about it…mostly because I'm a software guy. Astable 555 Timer Flasher
So please bear with me if these questions sound stupid…
1) I want a 50us on / 280 us off (3000 khz ish with at 15% duty cycle) circuit. THis means that Ct needs to be about 7000pf. Unfortunately, you can't get 7000pf caps polarized. Does Ct REALLY need to be polarized?
2) Also, what does a polarized capacitor do that an unpolarized one can't? Could I just stick a diode on it to make it polarized?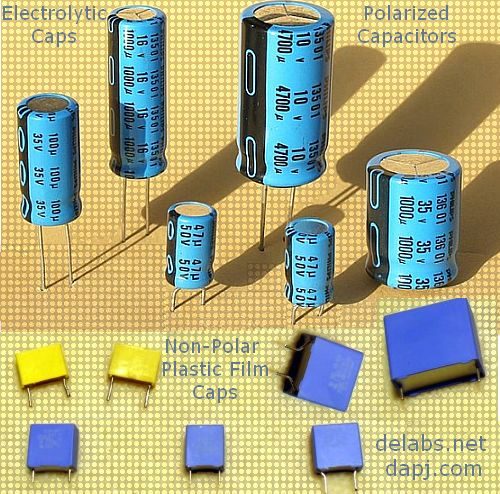 3) THere's a bubble on pin 4 (the reset pin) on the 555. Does that mean I need an inverter? Would a 74HC04 do the trick, or is there an easier way to do that (I need the HC because I have 6v Vcc)
4) I just want the output signal…can I drop all the LED and battery stuff to the right without affecting the circuit?
Mail from GK
---
1) A cap being polarized is due to manufacturing. Only Electrolytic Caps including tantalum caps and others that are polarized give you high capacitance. If you do it with just a plastic, mica or paper separator (dielectric) then you get very low capacitance. So they have to wrap or coil many meters of two-metal-films and a insulator like plastic sandwiched to get upto 10uF or even more. These are non-polar and will become very big for say 100uF. Hence we have the electrolytic caps with high uF for the PCB real-estate they occupy.
UnPolarized are ideal and can be used anywhere. Use Polarized caps where the footprint area you need is less for a certain value of cap.
So you choose caps based on space, cost, AC-DC, purpose. Thumb-Rule 1uF and above only el-caps. Unless you need it in a AC circuit or high voltage like 1 Kilovolts where polyester caps are used. 7000pf or 7nF is available as ceramic, mica, plastic, paper. use what you get right now. Making 7nF el-caps was never required. 1uF and Above el-caps.
2) Being a polarized cap is an handicap. So you dont need to polarize a unpolarized cap, so just leave it alone, it is fine as it is.
3) The bubble says "I pin 4 of 555 have a inverter inside the 555".
4) You can drop the LEDs, but you have to power the circuit with a batt or mains-DC-9V-adapter.

delabs
---
Thanks for the response! So I don't need a 74×04 chip to go into the reset pin? Cool. I'll stick to the non-polarized cap and and a direct input into the 555 pin 4. The board I'm using is powered by 6v, I hope this will do the trick, don't want to go the rectifier route.
Reply from GK
---
"When you build projects Software and Hardware, design products and services that are useful to society" – Solderman 1709