Passive volume control with Potentiometer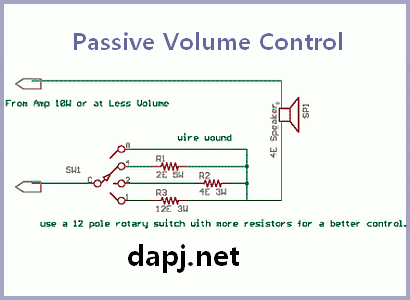 Volume control circuit for speaker 4 ohm or 8 ohm located in the another room far away. by using only passive components. This gives limited control and helps reduce volume when a conversation starts. The resistors are very low value.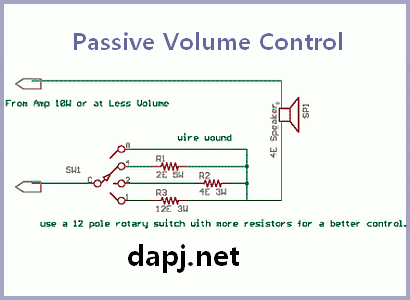 A simple circuit you can build at home at low cost it uses just a rotary switch and wire wound resistors. Add more resistors and a rotary switch with more contacts for finer control.
More Hobby Ideas and Projects at Hobby DIY Garage
An easy project to start DIY electronics is the Guitar Speaker. Make a good Acoustically friendly Wooden Box. Add a 20 Watt Audio Amplifier and a Large Speaker, There is a Power Supply too in this box. If you hear a Large Hum over the Strumming of the Guitar. You are in Business.
You should know that this is a limited design, it is used when the speaker is far away from audio amplifier. In the early days  audio amps were made of power transistors and signal transistors. (they came after  valves), No remote controls, Radio tuners, Spool Players and Turntables would be connected to these via a Preamplifier and Rotary Switches.
The Speakers in large wooden boxes would be kept at the far corners of the Hall, you could have a passive volume control in this with a Neon flickering indication of audio.  That circuit is here Music Sound to light converter.