Musical Sound to Neon Light Flasher
Neon Light Flasher was made by me when i was young, it was even published in a magazine, i think it will work, it was used on a very old huge ornamental valve philips stereo system in the remote speakers.
Recently i captured this circuit in eagle to publish online, it seems to have a small design error. It worked well for many years. The step-down transformer is used as a step-up here. The secondary winding was around 50mA so the resistance was protecting the 2N2222. (SL100 was used in the original one). C1 and R3 may need tweaking to get the desired adjustment range in R2.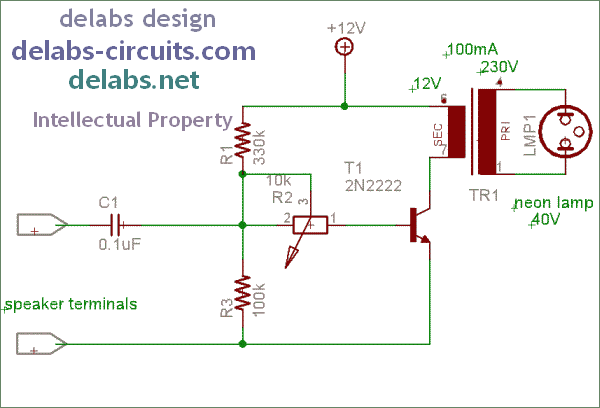 The voltage across the speaker is fed to C1-Gnd, which blocks DC component. R1, R2, R3 form a threshold bias for T1. 2N2222 chops the 12V DC in tune with the music.
The chopped DC current flowing in the 12V winding of TR1 is stepped up into AC pulses over 100V, this lights the Neon in flashes synchronizing in real-time with the beats. Known Issues – It does not perform well at low Bass like 20Hz.
One more use of neon is like a flasher. This can easily alert a person monitoring a machine or process. It can be used in a limit alarm or to indicate a equipment is operating well.
Flashing Mains Neon Lamp – Here is a Neon Flasher circuit (untested) for a user request at Elex Quna. This can be built into a switchboard or a gadget for indicating Live Power.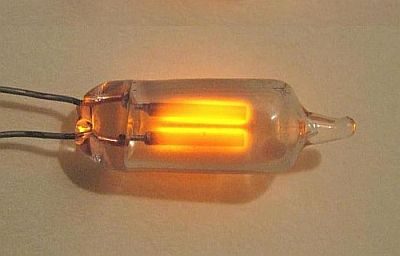 Relaxation oscillator – In electronics a relaxation oscillator is a nonlinear electronic oscillator circuit that produces a non-sinusoidal repetitive output signal, such as a triangle wave or square wave.