Printer Port Logic Analyzer
This is a Test Circuit for Logic Analyzer software, with the Simple port circuit. The VB Logic Analyzer works, but is just an example program to test and learn.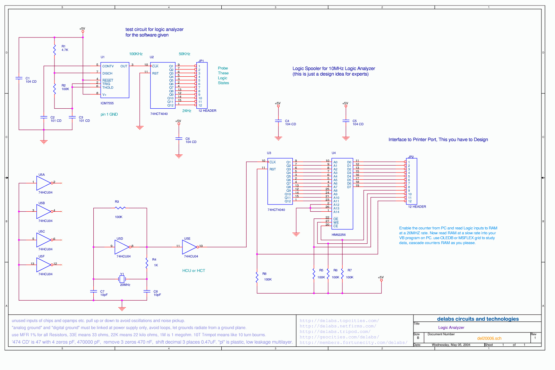 The speed at which the logic state changes say like 10 M Hz while probing even a PIC or 89C51, is too fast for this circuit. For that, the incoming data has to be spooled or stored in RAM at real time, by the external Hardware itself.
Test Circuit for Logic Analyzer software – del20006
As this is a Parallel Port Interface, an Embedded High Speed Digital RAM Storage of Multiple Logic input Channels with Signal Conditioning in the front end, could do the job. This is the minimum, if you want to program the rest of the instrument on Computer Software. Here is one you can see from Bitscope using USB or Ethernet.