Precision Op-Amp Current Source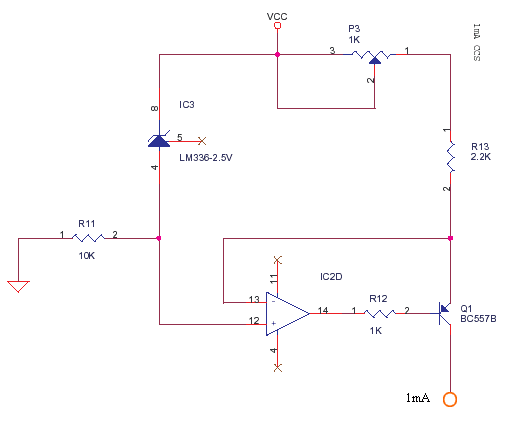 In this circuit we tackle the error indicated in the earlier Current Source. The LM336-2.5V eliminates the tiny error of the regulated supply and resistors. Thereby increasing Precision to a higher degree.
The opamp mirrors the stable 2.5V across P3 + R13. With P3 Bourns 10 Turn Trimpot you can trim the current for calibration. Q1 BC557B having a Beta – hfe of 200 is used. But a higher gain or a FET here may reduce error further, that may be needed if you are going for 16 Bit or more resolution. Then even opamp needs to change.
Mini RTD Pt-100 Three Wire Transmitter
Suppose you build it with the best Opamp, FET etc., but place it close to a Warm transformer, Regulator chip or even a Cooling Fan, you will see the lower digits of a 5-1/2 DMM spinning fast.