LM317 based Regulated Power Supply
This is a Regulated Power Supply based on the LM317 IC. It will need a Boost Power Transistor and heatsink for higher currents. It is a versatile building block for stable instrumentation supplies. Consumer Electronic gadgets can use a SMPS chip. In case you wish to use a SMPS for a Precision Instrumentation Block, then take extreme care on Shielding and EMI-RFI.
This is a General Purpose Chip, Series Regulation. It can be varied or trimmed. There is an Internal temperature compensated reference. The minimum trim value is around 1.2. In case you want a Low value voltage like 0.5 with a good current, then use a good negative supply to offset the 1.2 V.
Power supply with battery backup for DMM
The transformer can be s Split Bobbin with Pri-Sec copper shield foil.  This can be earthed along with the metal enclosure. C4 sends any hi-freq components to earth.  It is better if you do not earth the ground but use such capacitors. A Supply should simulate a a battery with both ends floating wrt Earth. A option to eartth the ground is fine. This also helps the user to configure his own dual supplies.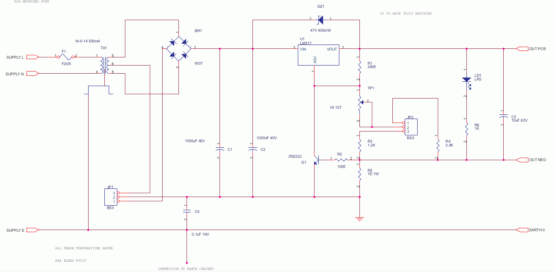 Q1 and R5 form a Short Circuit OR current fold back OR constant current mechanism. TP1 can be used to vary the output voltage.  Better use something like a Bourns 10T trimpot. An open preset may introduce a noise due to dust and vibration. I don't remember why i added a zener DZ1, a diode may suffice.
See more at my Power Supplies Section.