Connection Diagram of DC PCB SSR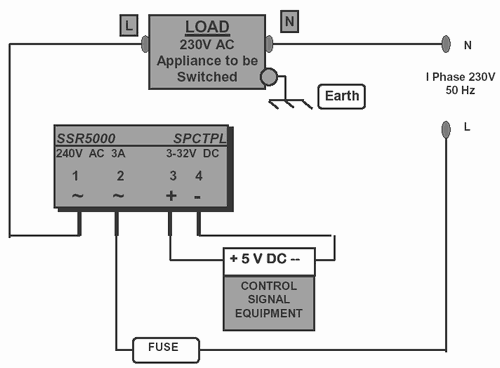 This is an Application note i used to give with my ssr – app012.pdf
Diagram of SSR 5000 DC 3-30 Control / 230V AC N.O. @ 3A.
This is a Thyristor Based Normally Open 230V Switch that can be turned on / off at a fast rate. This switches at Zero Crossover . Use 5V DC for Best Results.
No moving parts hence no wear and tear.
Dissipates Heat when in On Condition 5 Watts @ 3 Amps.
Mount with adequate Air Ventilation for 3 Amps.
Dissipation is 1.4 Watts per Amp thru Load.
Input to Output is optically isolated 1kV.
This one is DC 3-30 Control AC 230V N.O. Output.
Off state snubber Leakage is around 1 mA.
Notes –
The Termination's of High Current Lines going to Load must be very tight and crimped. Loose contacts will Spark and cause Fire.
Fast Blow Fuse is to be used. Use a 2 Amps Fuse with Holder in the Hot Line. This diagram applies to all AC SSR with DC Control