Connection Diagram of AC Control SSR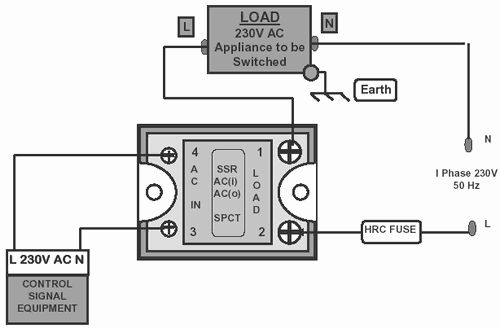 SSR or Solid State Relay or Electronic Relay Connection Method. This is a Thyristor Based Normally Open 230V Switch that can be turned on / off at a fast rate. This switches at Zero Crossover .Built In Snubber reduces EMI and protects the SSR. USE SAME PHASE FOR I/P & O/P.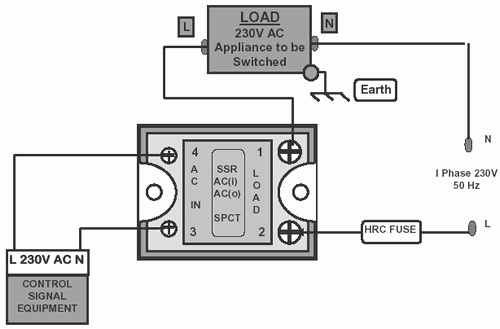 No moving parts hence no wear and tear.
Dissipates Heat when in On Condition.
Use adequate Heat Sink or SSR will fail. ( 10g / Amp)
Dissipation is 1.5 Watts per Amp thru Load.
Input to Output is optically isolated 2kV.
This one is AC 230V Control AC 230V N.O. Output.
Off state snubber Leakage is around 5 mA.
Notes –
The Termination's of High Current Lines going to Load must be very tight and crimped. Loose contacts will Spark and cause Fire. Fuse Rating of HRC Fuse – High Rupture Capacity (HRC) Fuse is Safe and Reliable. 5kW Heater at 230V is 5,000 / 230 in Amps of Fuse Rating.