Thermostat with digital display for PTC1000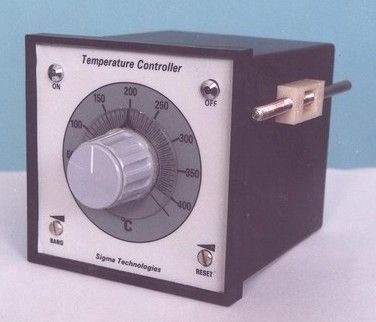 Thermostat with digital display, I need a electronic thermostat with a 2 digit display… Do you have anything like that??
mail from EU
---
can you explain how you plan to use it. then i can give you a suitable circuit. It it for a bakery oven or plastic injection moulding. do you want on-off control or proportional control. do you need a circuit and pcb or only circuit. do you want me to make a custom design for you.
delabs
---
Thank you very much for responding my e-mail! It´s really for may kitchen oven and I did put an on-off control but..really doesn´t work quit well so I thought in putting a proportional control or would like to have both, on-off and proportional, and see which works best.
I want to quot that it´s NOT FOR COMMERCIAL USE. It´s only for only for my home. I was looking tru the internet but didnt find what I want. I would like a simple thermostat with a two digital readout probably made with OP-AMPS cause with microcontroller it´s quit difficult for me because I don´t have a programmer and, also, do not understand quit well how they work either.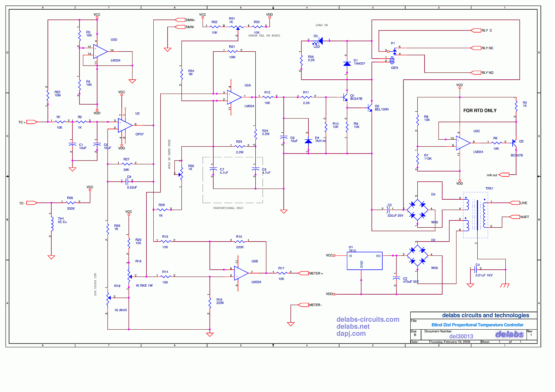 I was thinking in the using of PTC 1000 (because I already have it, that´s why) or any PTC, NTC or pt 50 or pt100
I only need the circuit, no pcb. If you know a place on the internet where I can find something like that I would really appreciate it very much. As I said before, something simple no big thing, but I need it with a 2 (or 3 not important 3) digital readout so my wife can see the temperature in the oven. Thank you again for your help and time, thank you.
Reply of EU
---
Blind Dial Proportional Temperature Controller
See this blind proportional temperature controller, pdf here Analog Circuits and use the display temperature controller, display, pdf here Temperature Control Circuits on same page some digital indicators are there use them for display.
You could also try this High Reliability Thermostat, i found it very interesting, pretty simple.
delabs
---
Thank you AGAIN!! Thank you for your help and time. It´s just what I need!!! Thanks a lot!!

reply of EU
---