LF353 – Wide Bandwidth Dual JFET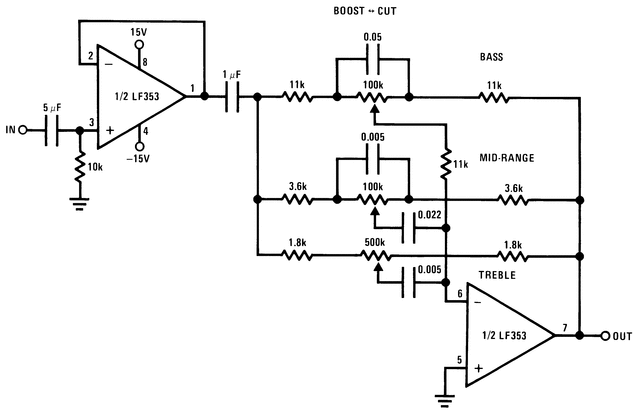 These devices are low cost, high speed, dual JFET input operational amplifiers with an internally trimmed input offset voltage (BI-FET II™ technology). They require low supply current yet maintain a large gain bandwidth product and fast slew rate. In addition, well matched high voltage JFET input devices provide very low input bias and offset currents.
LF353 – Wide Bandwidth Dual JFET
(Google Talk Transcript – Year 2006 )
Audio Tone Control with LF353 – Bass and Treble and Mid-Range(Presence). Bass is like Drums and Woofer. Treble is like Guitar and Tweeter. Mid-Range is like Vocal and Medium Speakers.
This circuit is to demonstrate the capability of the Opamp. The post is more related to instrumentation.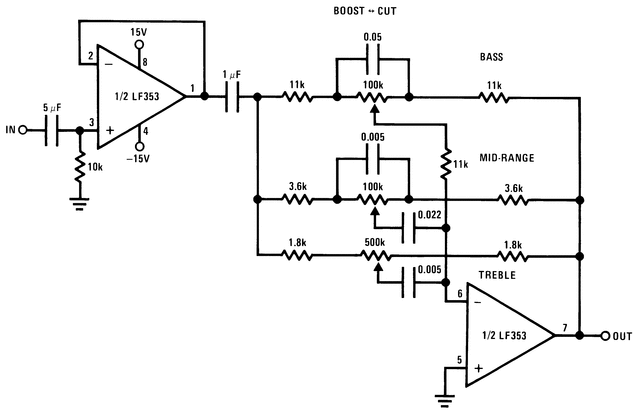 TF (12:16:46 PM): i need a clarification on OpAmp
delabs (12:16:57 PM): ok tell me
TF (12:20:55 PM): what parameter should I check to know the frequency response of an Opamp
TF (12:20:55 PM): the thing is i am reading about a perfect rectifier
TF (12:20:55 PM): so i am trying to find out how to get its maximum frequency
delabs (12:21:14 PM): ok
delabs (12:22:02 PM): you mean precision rectifier
TF (12:48:56 PM): are u there sir
delabs (12:49:17 PM): national.com/mpf/LF/LF353.html
delabs (12:49:03 PM): These devices are low cost, high speed, dual JFET input operational amplifiers with an internally trimmed input offset voltage. They require low supply current yet maintain a large gain bandwidth product and fast slew rate. In addition, well matched high voltage JFET input devices provide very low input bias and offset currents. The LF353 is pin compatible with the standard LM1558 allowing designers to immediately upgrade the overall performance of existing LM1558 and LM358 designs. These amplifiers may be used in applications such as high speed integrators, fast D/A converters, sample and hold circuits and many other circuits requiring low input offset voltage, low input bias current, high input impedance, high slew rate and wide bandwidth.
delabs (12:50:16 PM): Characteristics of Operational Amplifiers
TF (12:52:03 PM): checking
TF (12:52:26 PM): i think slew rate would be the parameter
delabs (12:52:42 PM): great, you got it