---
Process Control Instrumentation
Industrial Process Control Applications :


Among Process and parameters that are controlled and monitored in Industries, Temperature is the dominant parameter. Pressure, Flow and Level follow. The control methods include On-Off, Proportional and PID control.
This is a generic or standard controller for any type of process. Shown here is a temperature controller.
The STC1000 could be used for Ovens or furnaces, liquid baths, heating or environment chambers. It has a single analog input and an analog or relay output.

Analog inputs could be like 4-20 mA, thermocouple or RTD. Analog outputs can be 0-10 V for a thyristor drive, SSR drive output or potential free contacts of a relay to operate external 3 phase contacters.

The closed loop control could be On-Off or Time-Proportional. It was known as digital temperature indicating controller. Sometimes it would be used just as a Alarm or in a Trip circuit for protecting a system, when a uP or uC based PID controller fails.
Fieldbus Foundation - Device Data Networks

This is used in the processing of plastics, rubber, metals and in chemical plants too. Here is a checklist that was made for helping its fabrication. You can see the limitations in which we manufactured these products. An optimum quality was evolved, defined by a user's affordability of the product.
Proportional Temperature Controller
This is a Proportional Controller where the setpoint is derived from a Thumbwheel switch.
Temperature Calibrator Milli Volt Source
The conversion of Thumb-wheel Digital Data to Analog mV is similar to R-2R Weighted Resistor Network. In this case it is a 1-2-4-8 Binary Weighted Resistor Network. It has no Digital Components.
---
---
In this controller you can see a sensor open indication. When the sensor breaks, the temperature controller may continue to turn on the actuators or heaters, It may even Oscillate. So when a high impedance is detected in the sensor input terminals, the output relay is shut off and a LED is turned on to simplify operator's diagnosis.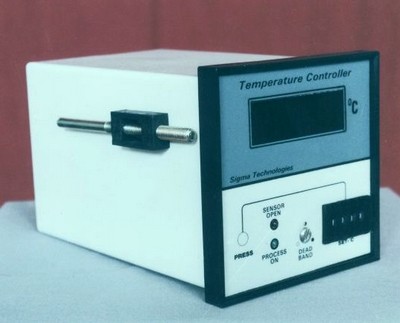 Mount the controller a distance away from heaters, ac-drives and vibrating parts. Avoid direct sunlight on controller, fix controller in a sealed control panel. Earth the point where the thermocouple senses heat. Some heaters leak. The machine has to be earthed.

delabs Technologies

Related -