Two Op-Amp Differential Amplifier

The Input Impedance of this module is very high and is symmetric. This circuit can be used for strain gauges and for four wire measurements. If inputs are in mV use OP07. The merit is that it uses only 2 OpAmps yet has high differential Input Impedance.
Opamp Supply on Buffered Virtual Ground
The Outputs of Opamps are low impedance but still have limits they cannot drive more than a few mA of Current into the Load. If low ohmic value loads are to be applied use external transistors as amplifiers. If inputs Vn-Vp are floating Outputs may be random or Oscillating, it is good to have a bias network of 10M resistors to a potential even zero or COM this enables Vout when input floats.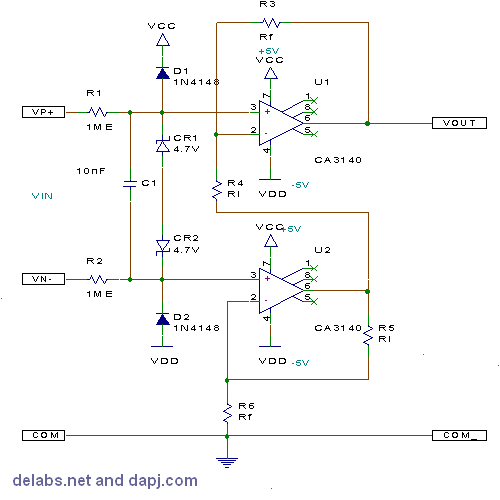 Vout = (Vp - Vn) * (Rf+Ri)/Ri

Interactive Tutorials using Virtual Electronic Components
Differential Amplifier using only Two Op-Amps, Interactive Tutorial Gadget. Instrumentation Amplifier. This is used in the front end of Signal Conditioners for Load, Strain and Pressure Measurement. High Z and Gain, Easy to configure Zero and Span.
Analog Mux for Data Acquisition Systems
Slide the Potentiometers just like you would operate a Sliding Control. Drag the Knob on Pot to increase or decrease the resistance. The Resistance is shown is blue letters and dynamically alters value as you slide the pot.
Use the "iframe" part in this
Dual OpAmp Differential xml code
The mV Source is varied by just moving mouse pointer over the two buttons, no clicking. This reduces finger strain and also you have a long lasting mouse. The mV buttons are special, the variation picks up speed if you let the mouse pointer remain on the button. This is Ramp-up and Ramp-down. This enables you to set it faster with just two buttons.
Finally you have a DVM a Digital Volt Meter that just Displays the Voltage at any Point, this readout value has to be noted down.
More Opamp Simulations
Back to Analog Op-Amp Circuits

...
---
delabs Technologies
20th Mar 2020