Buffer or Unity Gain Op-Amp

If output impedance of a point is a high value then connecting another circuit at that point will load it resulting in malfunction or error. Buffers are used as interface between circuits. Low impedance of an output means it can source sink lot of current, when you need 2 opamps use LF353 or TL072 which are dual opamps.

Instrumentation and Automation - 01
A non-inv FET input is the best buffer, for inverting buffer use high R values Using very high R values like 2.2M or higher requires a glass epoxy PCB and guard rings around pin 2, 3 to prevent leakage currents on the PCB reaching the PINs. Also moisture and dust has to be prevented by using RTV coating or Varnish. Use 78L05 79L05 for the dual supply required by this circuit.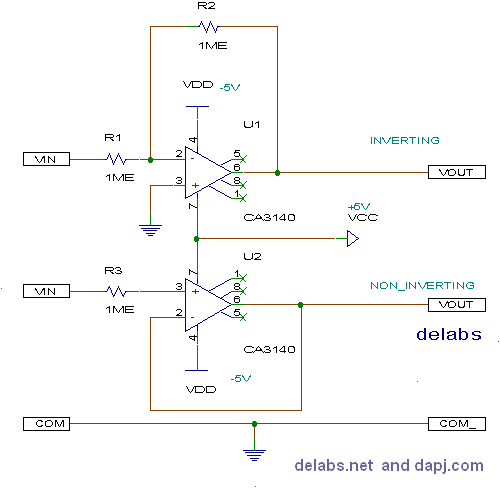 Vout = -(Vin) for inverting
Vout = Vin for non-inverting

Interactive Tutorials using Virtual Electronic Components
This is an Interactive Tutor with Virtual Meters and Pots, shows how a Unity Gain Buffer Operational Amplifier works. When no gain is required and you need to match impedance this can be use. Front end amps, Sensor amps. Polarity Inversion in Analog Computing or Signal Conditioning.
Precision Op-Amp Current Source
Slide the Potentiometers just like you would operate a Sliding Control. Drag the Knob on Pot to increase or decrease the resistance. The Resistance is shown is blue letters and dynamically alters value as you slide the pot.
Use the "iframe" part in this
Buffer Unity Gain OpAmp xml code
The mV Source is varied by just moving mouse pointer over the two buttons, no clicking. This reduces finger strain and also you have a long lasting mouse. The mV buttons are special, the variation picks up speed if you let the mouse pointer remain on the button. This is Ramp-up and Ramp-down. This enables you to set it faster with just two buttons.
Design Notes - Product Development - 07
Finally you have a DVM a Digital Volt Meter that just Displays the Voltage at any Point, this readout value has to be noted down.
More Opamp Simulations
Back to Analog Op-Amp Circuits

...
---
delabs Technologies
20th Mar 2020